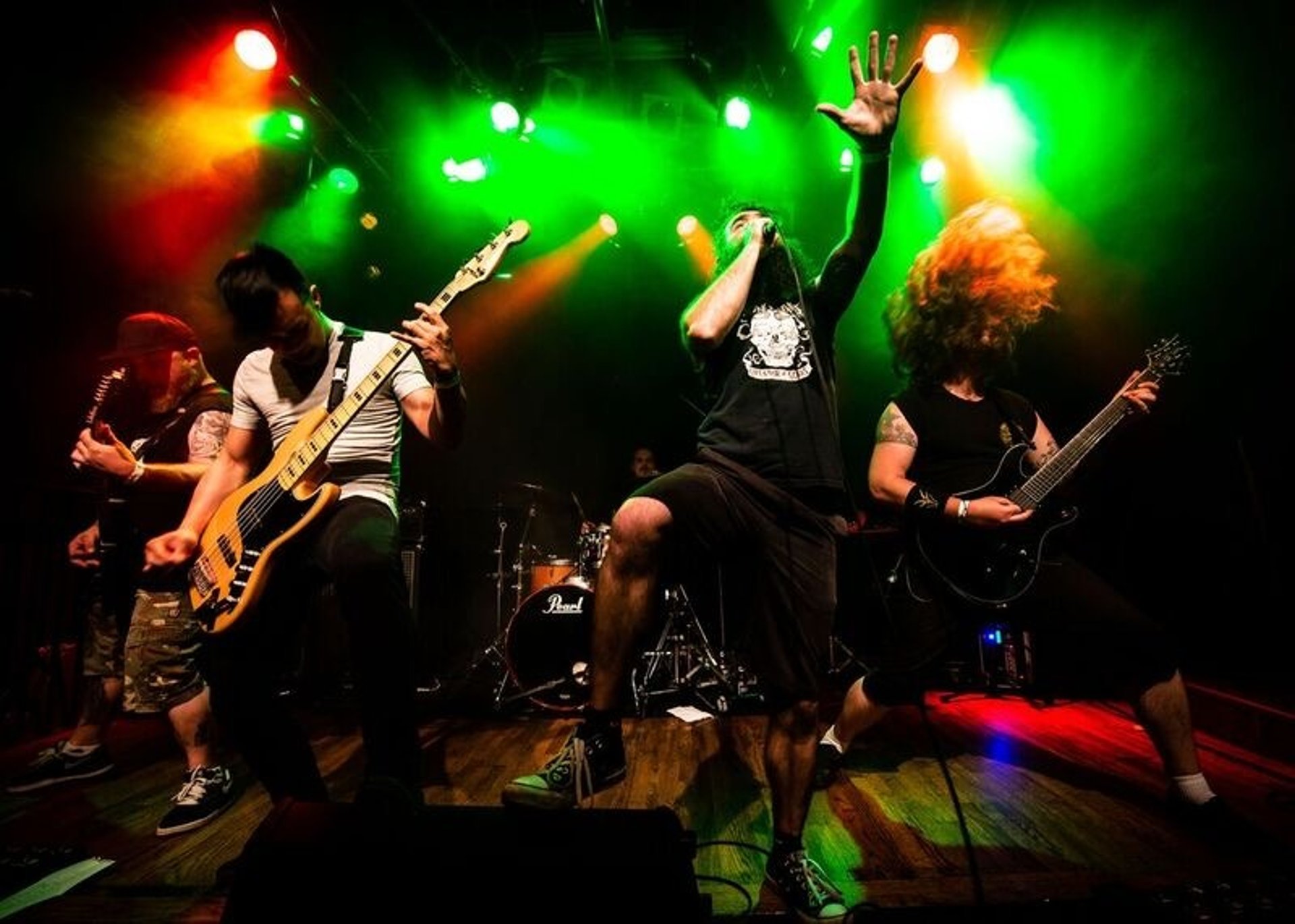 THE DECAY
"from slow and low to fast and furious, from melodic death metal and thrash to late '90s/early '00s Hydra Head/Relapse metallic hardcore and epic bright-eyed sludge."
– Decibel Magazine
"atmospheric, sludgy, and even experimental"
– No Clean Singing
"an absolute masterclass in musicianship and arguably the band at their most mature"
– MetalNoise
"Over the five tracks that Orchid's Curse present, there is a full range of the styles that they adopt. There's a fluidity to their sound, despite the multiple time changes, the ragingly gruff vocals and the thick riffs that power the band."
– The Moshville Times
"ferocious tones, attacking nature, and stunning comfort of shifts between melodic death, metalcore, groove/thrash, and hardcore elements thrown into the arrangements"
– Dead Rhetoric
"The Decay" is an impressive album that will appeal to fans of all stripes"
– AM:pliefied
CYNICS & LIARS
"Loud Recording of the Year" – Nova Scotia Music Week 2016 (WINNER)
"Loud Recording of the Year" – East Coast Music Awards 2017 (Nominee)
#3 on the !earshot-online weekly Top 10 National Loud Chart
#7 on the !earshot-online monthly Top 20 National Loud Chart
"Cynics & Liars, is very much an EP which epitomizes everything good about metal in 2016"
– PureGrainAudio.com
"Orchid's Curse are versatile, able to play everything from menacing thrash to accessible melodeath to punishing metal"
– HeavyMetal.About.com
"Every song punches you right between the eyes"
– Mettalworx
"This band simply does an excellent job in maintaining intensity"
– Metalzine Machine
WORDS
The Coast, Halifax's Weekly Best of Music 2014
Gold Winner – Best Music Video ("If We're Divine")
Gold Winner – Best Merch By An Artist
Bronze Winner – Best Metal Band
Bronze Winner – Best Album ("Words")
"Few bands demand that each album be a progression, a growth, in the way that Orchid's Curse does. No musical influence is turned away, but everything is twisted, melded into an intense metal experience that makes your head bang one moment and your toes tap the next… With Words, Orchid's Curse has spread its metallic wings a little further and at the same time created the most cohesive, memorable album of its career."
– HELLBOUND.CA
"Orchid's Curse employ their familiar tactic of borrowing the techniques of multiple genres, from filthy death metal riffs to hardcore barks, progressive guitar explorations and dirge-like, doom-influenced song structures."
– EXCLAIM!
"Orchid's Curse is one of those bands that plays around with melodeath, groove, thrash, and occasionally prog with enough fluidity to rid themselves of any sort of pesky sub genre tags and earn the simple, yet elegant classification of 'metal'."
– METALSUCKS.NET
"This album is just laced with hook after hook. Whether it be a classic metal riff, a psyched out interval or just a standard heavy rock n' roll beat; the album is catchier than an STD on 2-for-1 night at a brothel."
-ECHOES AND DUST
"Words breathes new life into a stale genre."
– HEAVYMETAL.ABOUT.COM
"Orchid's Curse has continually evolved in their sound and become one of Canada's finest underground metal bands."
-THIS IS NOT A SCENE
"Words will be one of the best, if not the best, metal record to come from Atlantic Canada in 2013."
– MUSIC NERD CHRONICLES
"With the combination of brutality, progressiveness, and storytelling; Orchid's Curse has paved the way for fellow musicians to show their true talent without getting caught up in what others feel they should be!"
– WELOVEMETAL.COM
"Words is an ambitious, well crafted modern metal album"
– NOISOGRAPHY
"An abundance of wicked riffs and mooted aggression work over the listener to Orchid's Curse's side"
-METAL UNDERGROUND
"Halifax's metal ambassadors Orchid's Curse's latest, Words, reads like a dissertation from the heavier side of the tracks."
-THE COAST
VOICES: THE TALES OF BROKEN MEN
♦ The Coast 2010 Critic's Pick
♦ Noisography.com Top 10 Records of 2010
♦ 2011 Nova Scotia Music Week + ECMA 'Loud Recording of the Year' Nominee
♦ Hellbound.ca writer 'Jason Wellwood' Individual Top 10 Metal Albums of 2010 [#8]
♦ PureGrainAudio.com writer 'Chee Kam' Individual Top 20 Metal Albums of 2010 [#18]
"Thick, brutal, aggressive and borderline cacophonous, at times, Voices is relentlessly engaging and explosive while maintaining a decisively melodic essence."
-Exclaim!
"Voices – The Tales of Broken Men is a pretty lethal disc from beginning to end, confirming that Orchids Curse is definitely one of the most promising, young acts on the Canadian metal scene today."
–Sea of Tranquility
"Voices: The Tales of Broken Men is a huge step forward and progression for the band. It's obvious that the members of Orchid's Curse spent time listening to prog-metal and prog-rock in between writing for their first album and this one. Not that they've eschewed all of their previous metallic ways, quite the contrary, they've embraced and built upon an already solid foundation"
-Hellbound.ca
"This band has a developed sense for melody buried or well camouflaged under tons of distortion, aggressiveness and brutality… 'Voices: the tales of broken men' is a real metallic album, destined to snap some more necks and raise some hell live"
-Metal-Invader
"Their music is undeniably heavy, but it's also dense with trippy excursion and ethereal edges to the intensity… they play with sincerity, brains, skill and humour."
-Noisography.com
"Tapping into the brutal assaults of Death Metal, the crush of Thrash and Progressive tilts with the insight of a psychologist, you get a band that is nearly impossible to correctly and accurately describe"
-MetalBite.com
"Voices… offers ten tracks of pure unadulterated heaviness from one of the Maritimes best up and coming acts."
-MusicNerd.ca
"My expectations were not only exceeded, but they were shot out of cannon and hit a brick wall with the velocity of a .357 Magnum. Their previous effort, Goodbye is When The Casket Closes, was a thick and meaty slab of At The Gates worship, but Voices leave that record in the dust."
-G! Magazine
"Imagine the perfect marriage of technical proficiency, dedicated musicianship with emotional catharsis and unadulterated aggression"
-Letterbomb
"an impressive mix of lightning-quick, well-balanced harmonies, impeccable shredding, booming, primitive drumbeats and surprisingly thoughtful lyrics."
-HERE[NB]
"heavy riffs built for headbanging"
-Metal Storm